Unfinished Engineered Flooring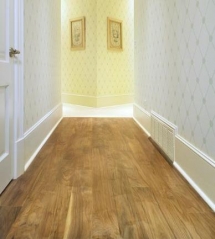 Able to be installed above, on, or below grade, unfinished engineered flooring expands and contracts less compared to solid hardwood when exposed to moisture and heat. In order to achieve this, engineered flooring manufacturers put together three to nine separate layers of hardwood, with the grain on each facing a different direction.
This type brings together the design possibilities of unfinished hardwood with the versatility and ease of installation engineered floors have. Unfinished flooring, in general, offers many finish possibilities and provides a greater area for testing a stain. This way, you do not need to go off the color samples for prefinished flooring, and you can find the right match for your space.
Before any finishing is done, engineered flooring needs to be installed, and the process is relatively quick. Unfinished engineered floors can be added all over your home, even over radiant in house heat or concrete. The wood is glued down, stapled, or floated above a subfloor. For the latter, engineered hardwood does not touch the subfloor directly. Rather, it is suspended above and rests on underlayment. All floating floors, which function as a unit to heat and moisture, are not installed the same, however. Glue, clicking, or a lock and fold mechanism may be used to attach planks together.
Sanding is the next step in installing unfinished engineered floors. For engineered flooring, the top layer is a high-quality piece of hardwood, and under layers are of the same or different species. The top layer can be sanded and refinished several times, and if you expect to be sanding several times, choose unfinished engineered hardwood with a thicker top layer. Engineered flooring is 1/4th to 3/4ths of an inch, and 0.6mm to 3/16ths of an inch of this amount is the top layer.