Unfinished Domestic Flooring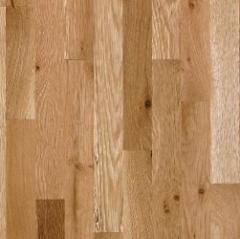 As the oldest form of wood flooring, unfinished hardwood comes in solid and engineered varieties and in species from all over the globe. Although prefinished hardwood is convenient, unfinished flooring has no limitations. Strip and plank sizes are larger, nearly any finish can be used, and the flooring creates a seamless appearance from one surface to another inside your home.

While prefinished flooring has a fixed appearance, the color schemes for unfinished flooring are next to endless. That's not to say one is better than the other. Rather, when you decide to add wood flooring to your home, choose one that fits your needs best. After unfinished hardwood flooring is installed, the floor provides a greater surface area for testing finishes, allowing you to decide which stain matches your space. Once you have picked out the best color, the test stains simply need to be sanded away.

Design-wise, unfinished wood flooring comes in longer plank sizes and blends better into your home or building. The wood easily transitions from one material to another without a bevel, line, or similar interruption.

Engineered and solid flooring are all sold as unfinished hardwood. If the flooring grade is particularly important to you, unfinished hardwood offers more consistency by following National Wood Flooring Association (NWFA) standards. Prefinished flooring, on the other hand, varies with manufacturer, and grades are simply descriptive of appearance.

When choosing a domestic species for your home, such as unfinished hickory flooring, the hardwood is sold in one of the following grades:

• Clear – A uniform appearance primarily composed of heartwood.
• Select – An appearance similar to clear but with some natural characteristics.
• #1 Common – More color variety, some streaking, and knots.
• #2 Common – More color variation and natural features.
• #3 Common – Value flooring with distinct knots, mineral streaking, and color variation.